JBD-157: Lady Attackers From Hell 2: Mission and BDSM
Reviewed by A Canadian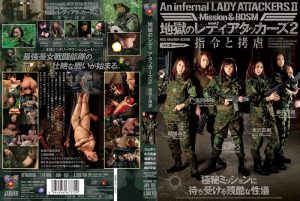 Title: Lady Attackers From Hell 2: Mission and BDSM (JBD-157)
Starring: Yu Kawakami, Maki Mizusawa and Yumi Kazama
Directed by: Kai
Running time: One hour and 50 minutes

Lady Attackers From Hell 2: Mission and BDSM lives up to the hype. While not perfect, it is the best Attackers movie since Slave Island 11 back in 2007
The film — about two call girls who have been trained as soldiers to infiltrate a crime ring (hey, it could happen) — has excellent production values and a solid mix of torture and rape. Among the only things missing are a good whipping scene and a forced stripping.
The cover art lists five JAV stars but only three have sexually explicit scenes. The primary star is Yu Kawakami, an award-winning JAV performer who has appeared in countless GIMP films. A petite, pretty woman with natural breasts and great nipples, Yu is terrific in this feature.
As is clear from the title, the movie is a sequel to Lady Attackers from Hell: Training and Discipline. This second film in the series begins in a swanky penthouse suite, where drug lord Don Mahler is hooking up with Yu, the call girl he met in his gambling room.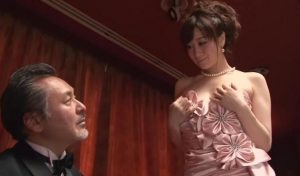 Not realizing Yu is his enemy, Don confesses he's having erectile difficulties. He accepts what appears to be a performance-enhancing drug from Yu and the two get busy missionary-style on a couch. As Don is about to climax, his heart gives out — he falls back on the couch, and cum squirts out of his stiff shaft (we'll see this kind of 'final shot' again).
Yu and fellow call girl Maki Mizusawa — who was also infiltrating the crime ring — escape into the nearby woods dressed in army fatigues. The pair get into shootouts with some criminals, also dressed in fatigues, who are on the hunt for them.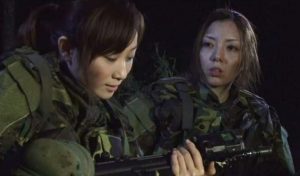 At one point, Yu is captured by a machine-gun toting guy who has some naughty ideas. He forces Yu to strip off some of her gear. The villain handcuffs Yu's gloved wrists in front of her and removes her helmet. Yu is forced onto her back in the dirty woods and her attacker pulls her pants and panties down to her knees. The villain forces Yu's legs up into the air and he licks her pussy, as squirming Yu gasps and groans.
The villain puts his dick into Yu, as Yu pleads for him to stop. Yu squeals and gasps as she is raped and there are some nice close-ups on her pretty face as she groans and grits her teeth.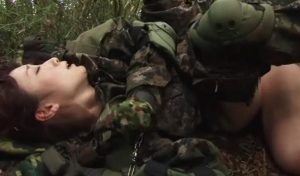 Yu looks horrified as the rapist announces he's going to cum. But just as the villain is ready to pop, Maki arrives and loops a rope around the villain's neck. Maki hoists the fiend to his feet, and cum shoots out of the rapist's dick (I warned you we would see this again) as the villain is choked to death.
Our heroines escape through the woods. The two ladies get separated and each runs into trouble. Within a matter of minutes (in movie time), Yu is captured again at gunpoint. As for Maki, she sneaks into a warehouse, strips off her clothes and uses water from a canteen to wash herself. She is caught by a villain but naked Maki seduces and kills the guy — as the villain is trying to lick her pussy, Maki spins around and snaps the villain's neck between her legs.
The action moves to a dark room in the villains' hideout that has a big red chair and some nearby electro-shock apparatus. The new drug lord, Lee Connor, is in the room. Also in the room is female villain Yumi Kazama and some criminal warriors in army fatigues. Recaptured Yu is pushed into the room by a guy who's holding her arms. Yu is now naked, with her hands cuffed behind her back. As naked Yu stands in front of Lee, the mobster grabs Yu's hair and threatens her. The criminals taunt Yu and Lee motions for Yu to be strapped into the red chair.
Yu is next seen bound in the chair, with her arms and legs spread apart. Helpless Yu squirms and protests as a villain connects electric cables to the metal bands on her arms and legs and to the large band around her head.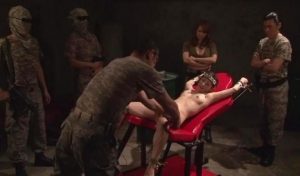 Gasping Yu looks and sounds genuinely terrified as she is being wired up. The highlight is when a cable is clamped to a band around Yu's left arm and frightened Yu lets out an authentic-sounding squeal.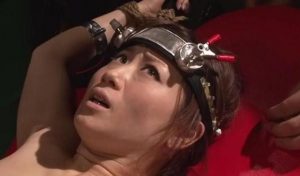 A villain flicks the switch on a control box that activates the lights on the band around Yu's head. The villain then cranks up a dial — a loud buzz is heard as Yu's body jolts up from the chair, shaking, and Yu screams in pain.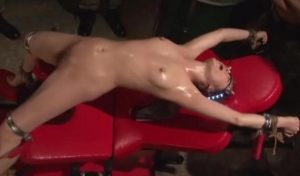 When the charge is stopped, Yu lands back in the chair, panting. A second charge makes her body arch again, with Yu shaking and screaming. When the shocking is stopped a second time, Yu lands back in the chair, gasping and sweating. Yumi tries to make Yu confess information but Yu refuses. The shocks continue to be applied until Yu's eyes roll into the back of her head and she passes out.
This is followed by a brief scene of Maki making her way through the forest, and then it's back to Yu, who is in another predicament.
With ropes binding her legs and feet together and tightly binding her arms behind her back, Yu is hanging upside down from the ceiling, tied to a chain. Below her head is a large aquarium filled with cold water. Yu is surrounded by three criminals, including one guy holding the other end of the chain.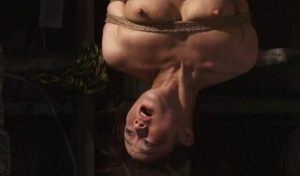 Yu cries out as the villains begin lowering her into the tank. Once her head is submerged, Yu thrashes around like a fish on dry land. Water splashes out of the aquarium as Yu's body twists and squirms, until a villain pulls the chain and lifts Yu out of the tank.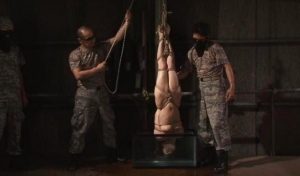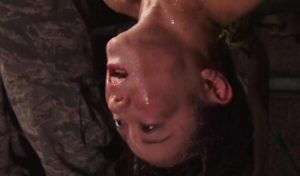 The villains continue to dunk Yu in and out of the aquarium and Yu does an amazing job gasping and squirming. Adding to the fun, this scene is shot from a number of unique angles, including wider shots of Yu's full body being lowered into the water and some wonderful close-up shots of Yu's head submerged in the tank. The various angles are effective and keep the action exciting as Yu is dunked numerous times.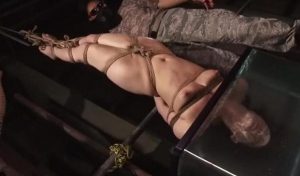 Without a doubt, the dunking torture is the movie's crowning achievement. Ultimately, Yu passes out and the villains leave her dangling above the aquarium.
Out in the woods, Maki is engaged in gunfire with the criminals. But Maki is soon captured, with criminals pointing three machine guns at Maki's head.
As threatening music plays in the background, the camera pans along the ground to reveal Maki's discarded machine gun, some of her gear, and her helmet. The camera pans to a nearby tree, where two green bamboo poles are leaning against the tree. As the camera pans up, we see an unconscious Maki firmly tied to the poles by ropes. Maki is upside down with her arms tied behind her back. Her top has been opened to reveal her tits, and her pants and panties are down (up?) to her knees.
Maki awakens as one of the guys pries open her mouth so another guy can stick in his dick. Maki is forced to blow the one guy as the men feel her up.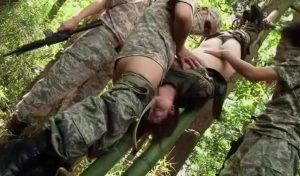 This scene would have been stronger if the men had threatened Maki with their guns, or if Maki had struggled more. Nonetheless, Maki does some nice grunting as she is forced to blow each of the villains and looks particularly disgusted whenever a dick is removed from her mouth. As with the previous dunking scene, the action is shown from a number of angles, which is a real plus.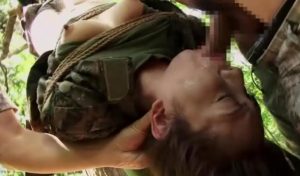 At two different times, a criminal cums in Maki's mouth. In each case, Maki spits out the cum, which streams down her face as Maki coughs and gasps for air.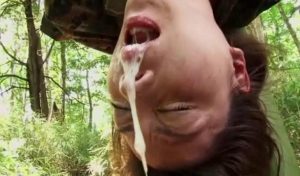 The third violator never gets to cum as he and the two other fiends are picked off by a sniper who rescues Maki. The sniper is Sanae Momoi, who looks pretty hot — too bad nothing happens to Sanae in this movie (hers is one of the non-sex roles).
Meanwhile, things aren't getting any better for Yu, who remains a prisoner in the criminals' hideout. Still naked, Yu is bound spread-eagled to a rather cheap-looking bed, with her arms and legs firmly tied to the bed posts. Female villain Yumi Kazama appears and expresses a desire to get to know Yu more intimately.
Yumi, who is dressed in a green cutoff top (that doesn't fully cover her jumbo boobies) and camouflage-design pants, gets on the bed and starts caressing Yu's body and fondling Yu's breasts. As Yu squirms and protests, Yumi strokes Yu's pussy with her hand. Yumi gets a massager vibrator and uses the vibrator on Yu's tits and on Yu's private area.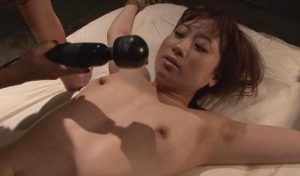 Yu's responses to the vibrator are a bit too much. Some of her cries make her sound like someone in pain, rather than a woman being pleasured. That said, Yu has some nice ecstasy-face close-ups and her little body rattles with conviction when she climaxes.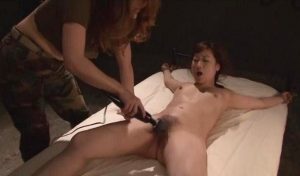 Yumi remains hot for Yu. Leaning over the top part of the bed, Yumi grabs Yu's head and forces kisses on Yu. Yumi also licks Yu's face and neck. Yumi moves down to suck Yu's tits and she tugs on Yu's firm left nipple with her teeth.
Straddling Yu, Yumi removes her top and leans down to smother Yu with her huge breasts. Yumi threatens Yu and forces Yu to suck on those big melons. After she removes the rest of her clothes, Yumi sits on Yu's face and forces Yu to lick her pussy.
Forced lesbianism is probably an acquired taste and Yumi's molestation of Yu may not work for everyone (some of it works for me). It should also be noted that Yumi Kazama is nothing like the young waifs you often see in Japanese porn. The curvaceous 33 year old — whose star status is due to the rising popularity of MILF porn in Japan — is lovely but definitely full figured.
The movie wraps up with crime lord Lee Connor violating Yu. It starts with Yu standing naked in a room filled with criminals, including Lee and Yumi. Ropes have been used to bind Yu's arms behind her back and the ropes also run above and below her breasts. Lee taunts Yu and proceeds to feel up her body. Yu groans and squeals as Lee fondles her breasts and squeezes her nipples.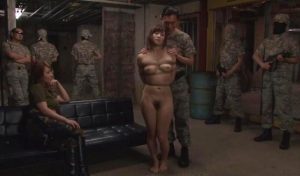 Lee makes Yu bend forward in a bowing position. Lee spanks Yu's ass a few times, and then crouches down behind Yu and puts his face between her legs to eat Yu's pussy. Yu lets out some loud groans as her pussy is licked.
Yu is placed in a sitting position on the couch and Lee stands in front of Yu and drops his undies. Yu is forced to blow Lee, with Lee grabbing the back of her head with both hands to help drive his point home, so to speak. There's a nice moment where Lee slaps the back of Yu's head and orders Yu to work her tongue along his shaft.
The blow job ends with Yu gagging on Lee's cock. As drool hangs from Yu's mouth, Lee kneels close to her and lets her know he's going to fuck her. Yu is moved into a missionary position on the couch and Lee nails her, with Yu moaning and panting as she is banged.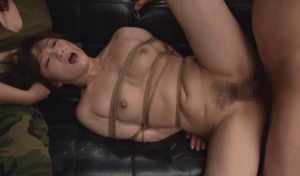 Yu is moved into a standing position, leaning forward against the back of the couch. Lee pumps Yu in that position and there are some nice close-ups of Yu looking shattered as she is violated. Lee finishes by cumming in Yu's pussy, and cum seeps out of Yu's snatch after Lee has withdrawn.
Maki and some other soldiers arrive on the scene to rescue Yu. A shootout follows and Yu is led to safety. The movie concludes with a trailer for Lady Attackers from Hell 3, which will include a whipping scene with three naked women tied arms over head and an electro-shock scene featuring two naked women tied AOH.
My grade: A
Lady Attackers From Hell 2: Mission and BDSM draws much of its influence from other Japanese porn producers, specifically CineMagic and FA Pro, and the inspirations are used to great effect. The final result is superior to most of what gets released these days. Yu Kawakami is outstanding in the lead role. Although it has some flaws, Lady Attackers From Hell 2: Mission and BDSM is a first-rate feature production that is highly recommended.
My Grade: A
Format: AVi / Size: 596 MB / Duration: 01:50:10 / Resolution: 720×480