FABS-034: Full Metal Fuck: Assault Sex
Reviewed by A Canadian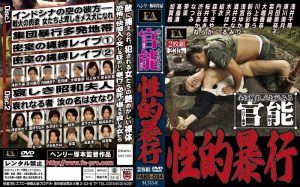 Title: Full Metal Fuck: Assault Sex (FABS-034)
Starring: Yu Kawakami, Kana Ohori, Aya Natsuki, Chinami Sakai, Mizuki Sugawa, Ayaka Shintana, Yui, Akane Shibuya and 10 others
Directed by: Henry Tsukamoto
Running time: Four hours

Full Metal Fuck: Assault Sex is a tremendous two-disc compilation of sexually charged war stories from the FA Pro porn company in Japan. It contains recently shot stuff and older footage and has a mix of both consensual and unauthorized maneuvers. Fortunately, the emphasis is on cold-hearted sexual assaults.
Yu Kawakami, the star of such memorable films as Lady Attackers from Hell 2 and Cinemagic CMC-082, is the big name in the cast. But the collection actually features a number of strong performers, including big-breasted cutie Kana Ohori and pretty Aya Natsuki, who are each gang-raped in the dirt.
Disc 1
The film's nasty tone is established right away. The opening scenes feature a female guerrilla (Chihiro Asai) who gets banged (consensually) by a series of guys who take turns visiting her hut.
The GIMP action begins about 40 minutes in. Two fugitives on the lam from the Viet Cong — a male and a female — take a break from their running to do the wild thing in the woods. However, they are so busy getting busy they don't notice the arrival of five armed soldiers. The lovers are captured and taken to an outdoor trial that leads to the male fugitive being shot dead.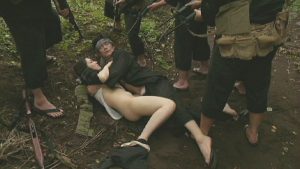 The sentencing is worse for the female, Mizuki Sugawa. Following her conviction, we see Mizuki lying naked on a mound of dirt with her arms and legs tied to wooden stakes, surrounded by the soldiers who prosecuted her. Mizuki is to be raped five times in succession by five different soldiers.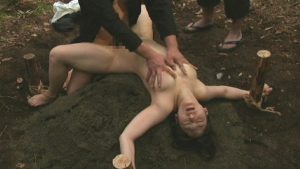 Mizuki's no glamor queen but she's decent looking and an effective victim. She yelps as she is boned and she gasps and whimpers between violations. Each assaulter cums inside Mizuki and one guy forces kisses on her after he climaxes. As well, one of the rapists forces Mizuki to briefly suck his dick.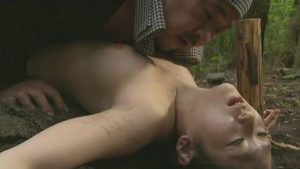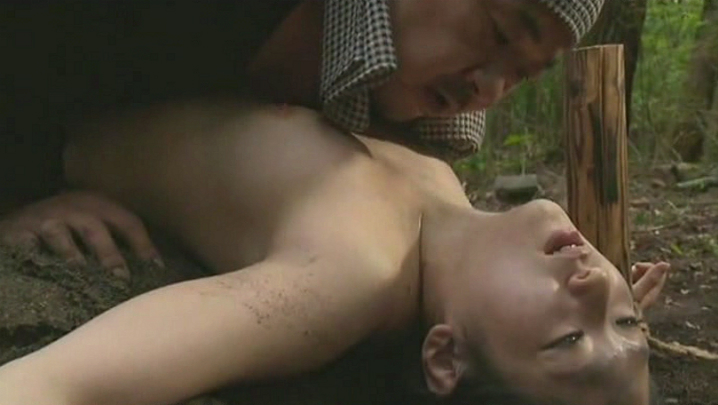 After she has been thoroughly ridden, Mizuki — who is back in her clothes — is kneeling on the ground with her hands clasped behind her head. A female soldier points a rifle at the back of Mizuki's head and blows her brains out.
Some consensual copulation follows. When the GIMP action returns, the storyline is about two comely Viet Cong guerrillas — Kana Ohori and Aya Natsuki — who kill two South Vietnamese soldiers and are subsequently captured by the dead guys' buddies.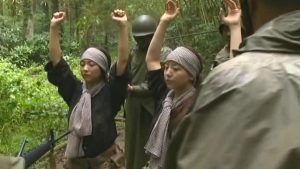 The men's leers are enough to tell you the ladies are in a world of shit. Two soldiers confront the women, slapping their faces and copping feels. Aya is marched away by a couple of soldiers to another part of the woods while the guys holding Kana captive strip off most of her clothes.
The soldiers tie Kana to stakes so that she is bound face down on a muddy hill. A pudgy guy pulls out his dick and exploits Kana's helplessness while a second soldier gets aroused.
The pudgy guy pumps Kana's pussy and delivers an anal assault, finally cumming in Kana's ass. After the rapist withdraws, a stream of cum oozes out of Kana's quivering butt hole.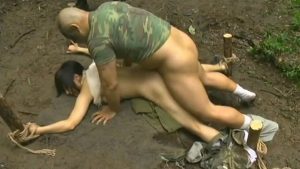 Meanwhile, in another part of the woods, Aya is on her back on a small hill. Her wrists are tied to stakes and the lower part of her legs are bound against stakes so that her body is in an arched position. Aya is still dressed except for her pants. A soldier rips open Aya's top and undershirt and tears open her panties, leaving Aya's slender body exposed.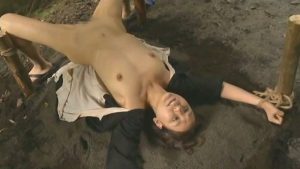 The soldier drops his pants and kneels down to nail Aya. Pretty Aya grunts and groans as she is ruthlessly drilled. The rapist pauses at one point to suck on Aya's small boobs, but soon goes back to jackhammering Aya while a second soldier watches. The assault ends with the guy squirting inside Aya.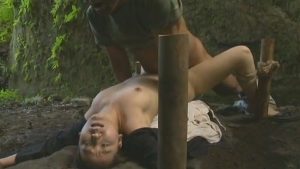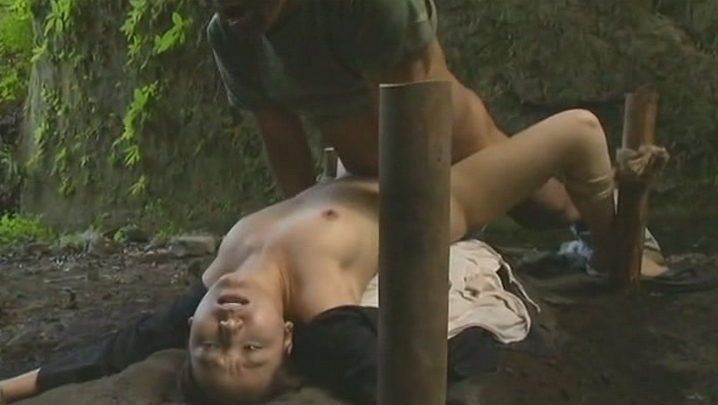 The movie flips back to Kana. The exotic beauty is now completely naked and lying on her back in the mud, with her wrists and ankles once again firmly tied to stakes. A soldier uses a cloth to wipe Kana's pussy and then enters her. The villain pants loudly as he sticks it to Kana.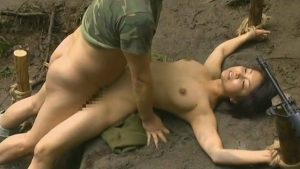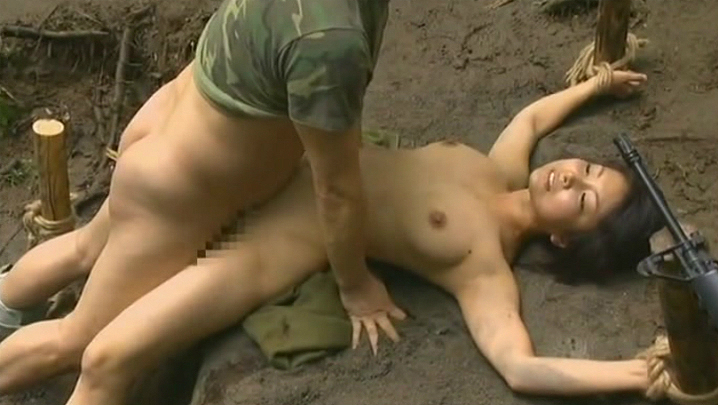 The soldier sucks on Kana's big (slightly enhanced) boobs and slobbers on her neck. He grabs Kana's head to force kisses on her and orders Kana to play Tongue Judo with him. The soldier returns to pumping Kana and busts a nut inside her.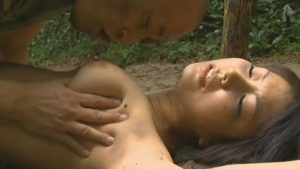 The movie continues to show alternating scenes of Aya and Kana being raped.
In Aya's next scene, her legs have been untied and are being held in the air by two soldiers while the commander of the group penetrates her. The commander pants like a dog as he slams Aya. Once he's finished, a second soldier moves in to violate the heroine. When soldier No. 2 is done, another switch occurs and a third guy taps Aya.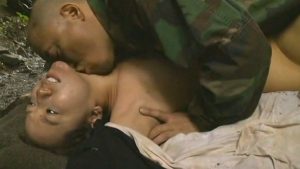 Jumping back to Kana's neck of the woods, the commander who helped assault Aya shows up to ride Kana. Once again, he grunts like an animal as he commits his rapid-fire attack. The commander is followed by another soldier who rapes Kana. The second guy squirts inside Kana and finishes up by lying on top of her, licking her neck and slurping her big left boob.
The revenge is completed with the killing of the female guerrillas. In each case, the woman remains tied to the ground and a soldier uses a pistol to shoot the victim in the head.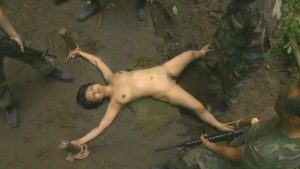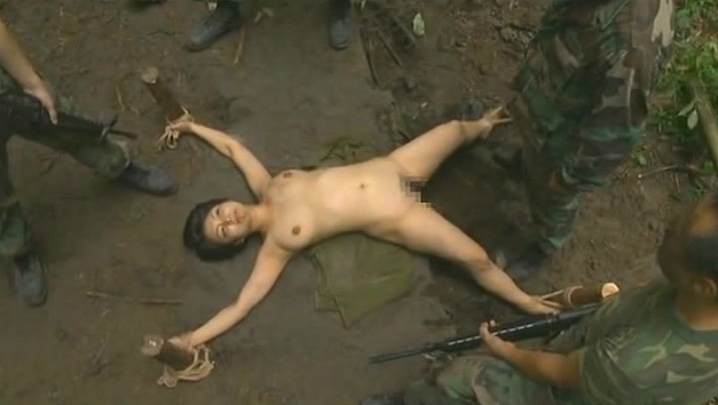 JAV great Yu Kawakami stars in the next part. Yu is being held hostage in what looks like a workshop. She is naked and bound to the ceiling in a standing position, with her arms firmly tied behind her back. Her ankles are tied to a bamboo pole, keeping her legs spread apart.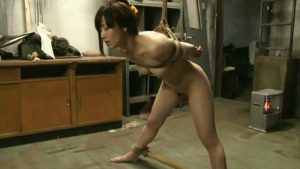 A man with a religious fixation stands in front of Yu to pray. He then kneels behind Yu and starts fondling her body and licking her neck. He shoves his face into Yu's pussy and eats her out, while Yu quivers and moans.
The villain drops his pants and nails Yu in a standing position, ultimately cumming on Yu's ass. He repositions himself to force deep kisses on Yu. When he's finished, the guy offers a second prayer for Yu.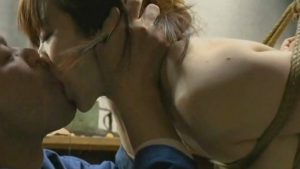 The next victim is Ayaka Shintani. Ayaka is lying naked on a blanketed work bench with her wrists bound above her head and tied to the bench. Her legs are spread and her ankles are tied to pillars.
Religious dude shows up with his pants already gone. No time for any praying this time. Instead, he gets right down to business, inserting his dick into a horrified Ayaka.
Ayaka is a squealer who belts out loud cries as the holy man plows her. When it's time to cum, the guy withdraws and shoots on Ayaka, just to the right of her pussy. As Ayaka continues to quiver, the religious fellow forces kisses on her and plays with her boobs.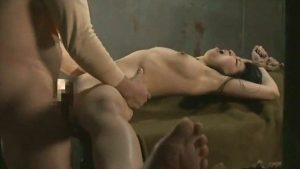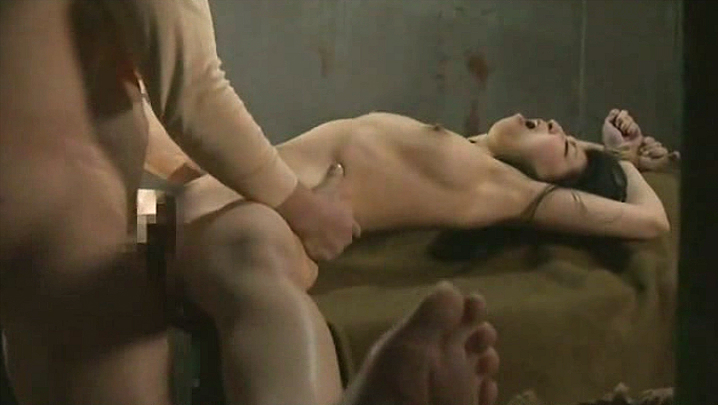 In the first disc's final scene, Ayaka is on all fours on a desk in an interrogation room. Two soldiers have their way with her. One guy gets Ayaka to suck his dick and make out with him while the other guy bangs her doggie style.
Disc 2
The second disc is made up of much older material. It starts with a scene where middle-aged Akane Shibuya is interrogated by a soldier and an intelligence officer. Apparently displeased with (or indifferent to) her answers, the two men force Akane to kiss them and she is violated on a desk. An OK segment but nothing special.
The bulk of Disc 2 features a 2006 war-time drama that was initially a stand-alone movie, FAX-032 (it's available at Jav Paradise). It's about 10 female PoWs who are debased and violated.
There's quite a bit of plot and dialogue that I won't describe in detail (have I mentioned that I don't speak Japanese?). Suffice to say that there is a prison-yard scene where the women see many of their male companions gunned down in cold blood — guaranteeing compliance from the ladies.
The fun starts when eight of the women are lined up in the officers' quarters in the prison. The commanding officer inspects each woman, sticking his hand down each prisoner's blouse to feel up her tits.
The commander conducts a second inspection of the row of prisoners and forces each woman to suck face with him. Two more officers take turns doing the same thing, pushing deep kisses on one lady after another.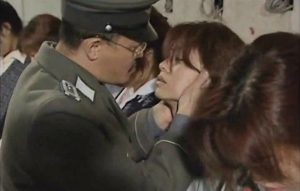 The ladies are sent back to their cell, with one exception. Chinami Sakai, an alluring MILF with enhanced breasts, is ordered to remain behind as punishment for wiping the kisses off her lips.
The three officers are eager to make an example of her. After forcing Chinami to make out with each one of them, she is sent away with a soldier to get herself cleaned up for some carnal fun.
Chinami is taken to a grungy-looking room where the soldier makes her remove her clothes and step into a bathing area. Chinami squats over a bucket of soapy water and rubs her pussy clean using the soapy water.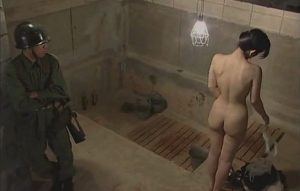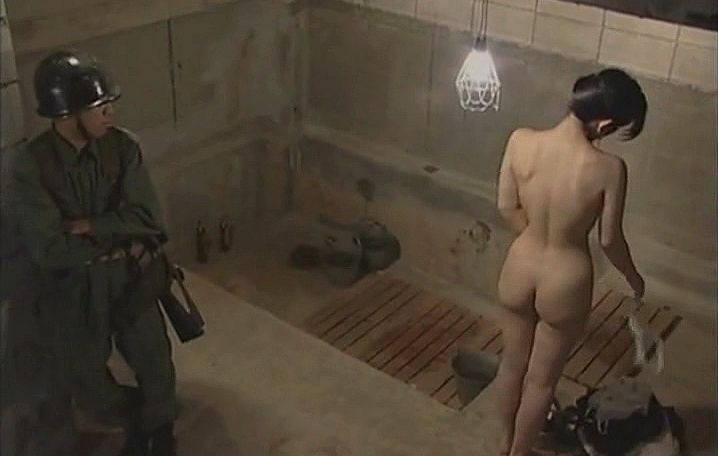 Although Chinami keeps her back to him, the officer is loving the show. He orders Chinami to pour a bucket of water on herself and watches closely as the water runs down her sexy body. The soldier has Chinami dry herself with a small towel (also quite sexy) and orders Chinami to get dressed.
Chinami is returned to the officers' quarters and the three officers once again force kisses on her and fondle her breasts. The commanding officer tells Chinami to strip. Once naked, Chinami is forced to lie on a table so the commander can dine on her pussy.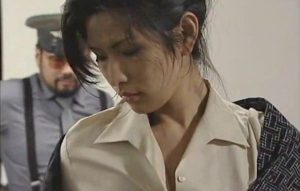 The three villains take turns pounding Chinami in missionary and doggie positions. The table rattles as Chinami is rocked by each villain. One guy cums near Chinami's pussy, a second guy pops on her ass and the third guy bursts inside her.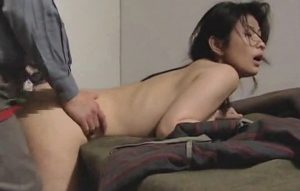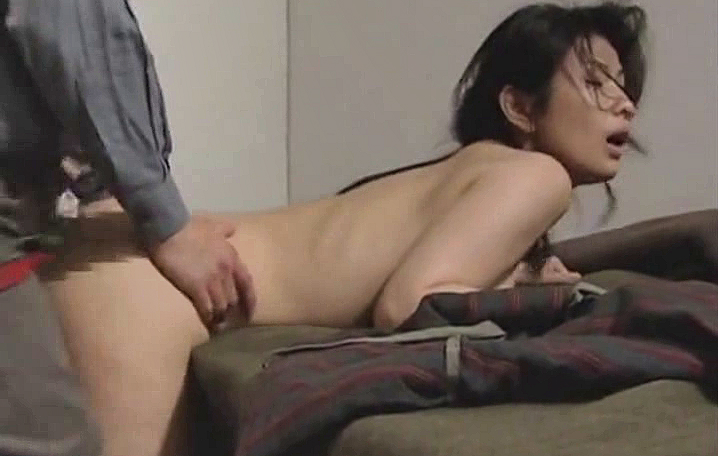 The truly memorable part of the second disc comes next.
Soldiers escort six women into a big room where the ladies have to line up and peel off their clothes. The prisoners are ordered to squat over buckets of water to wash their pussies with their hands.
The women are forced to lie on a black bench with their heads and hands in a stocks-like partition. Each prisoner is handcuffed to the woman beside her. Rows of soldiers line up to plow the women. The first six drop their pants and dive in while subsequent rows watch.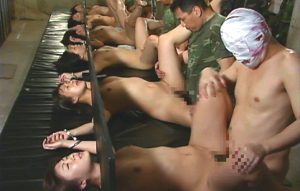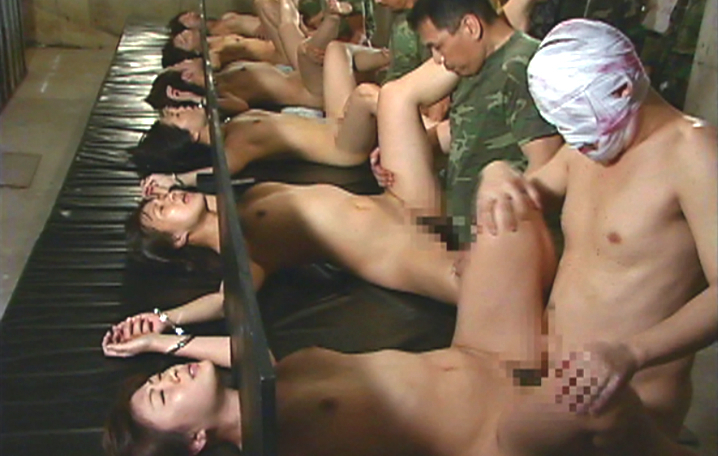 There is a great mix of wide shots and closeups and the ladies squeal as they are plundered. When the first row is done, a second row moves in and the humping continues.
Although this part lasts a good long time, it doesn't show every row of soldiers getting its turn. After the first two shifts are done, the action moves to individual assaults. The solo rapes use a similar stocks-like contraption, with each victim handcuffed to steel clamps.
Chinami is raped by two different guys in this set-up. Three other ladies are also assaulted in the individual scenes that help close out the movie, including lovely Yui (pictured below).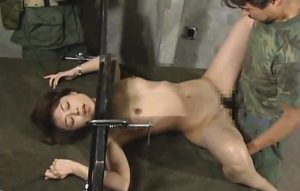 My grade: A+
Yes, this film gets the highest grade possible. While I'm not normally a fan of compilations, this collection really works. Its wealth of outstanding moments exceeds the quantity found in most top-rated films. And the film repeatedly shows an inspired meanness that is sexually thrilling without ever crossing the line into anything gory or gross. Full Metal Fuck: Assault Sex is simply outstanding.
My Grade: A+
DOWNLOAD FILE – FABS034SASTRHTH-FULLMOVIE-06-A-2shake.rar
DOWNLOAD FILE – FABS034SASTRHTH-FULLMOVIE-06-B-2shake.rar