HTMS-080: Bodies Raped in Confinement
Reviewed by A Canadian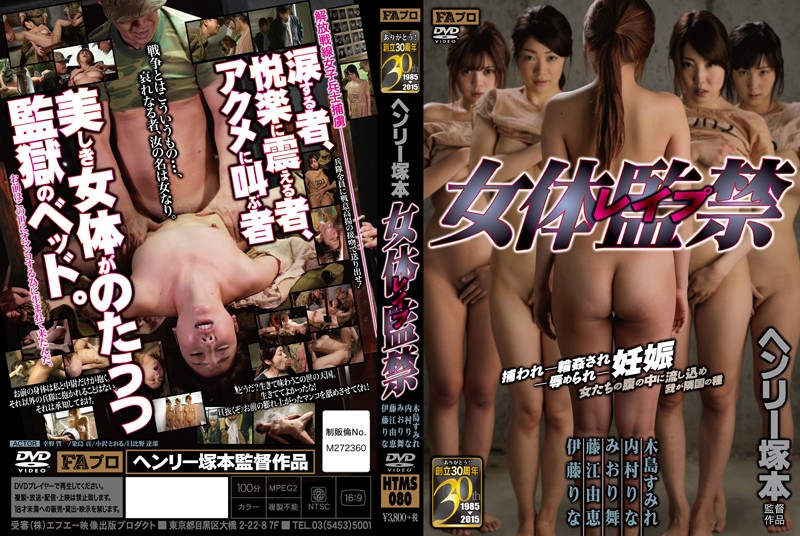 Title: Bodies Raped in Confinement (HTMS-080)
Starring: Rina Uchimura, Mai Miori, Sumire Kishima, Rina Ito and Yoshie Fujie
Produced by: FA-Pro
Running time: 100 minutes

The often-reliable Japanese porn company, FA-Pro, has cranked out another solid release.
This 2016 prisoners-of-war flick — a sequel to the 2015 film, The Rape of the Female Body (HTMS-078), and the 2014 epic, Full Metal Fuck: Assault Sex (FABS-034) — contains some excellent depictions of rape and humiliation that are among the company's best. Although the film drags at times, it is definitely worth seeing.
The story is about female rebels who are violated by military men. Following some highlights from the previous movies, the story opens with a firefight that leads to a pretty guerrilla, Mai Miori, being captured by soldiers.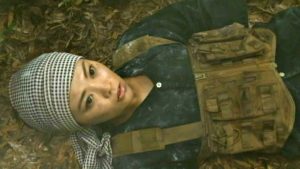 Mai, who has small breasts and a mop-top hairdo, was my pick for best actress of 2015 as the gang-rape victim in The Rape of the Female Body. In the sequel, she quickly finds herself in a similar predicament, with equally strong results. Naked Mai is flat on her back on a small table in the great outdoors, with her arms tied to wooden stakes and two soldiers holding her legs apart. Four older soldiers proceed to rape her.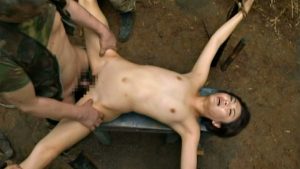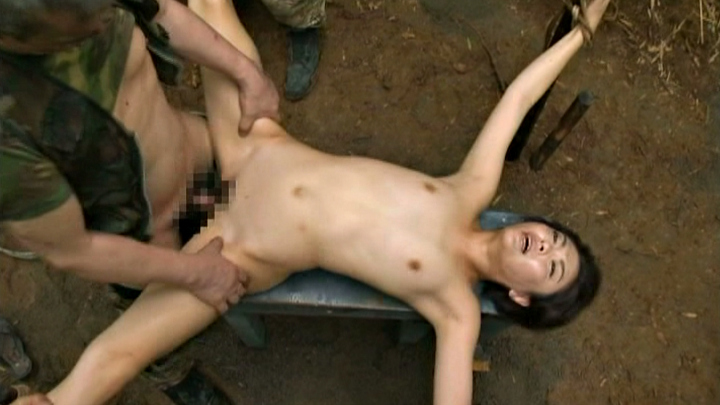 The villains lick Mai's pussy, neck and other parts of her body, and drill her with conviction.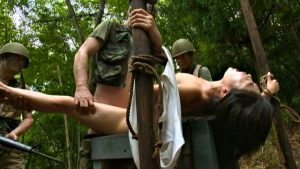 Pretty Mai delivers a powerful performance. Her grunts and groans and various facial expressions — from gritted teeth to wide-open-mouthed gasps — are hot as hell.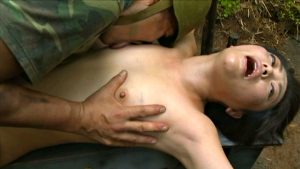 Afterwards, the soldiers surround a fully dressed Mai, who is back on her feet, as one soldier presses his tongue into her mouth. Mai is forced to kneel with her hands clasped behind her head and a soldier shoots her in the back of the head.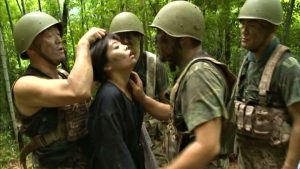 The next star to appear is Yoshie Fujie, another trophy winner from 2015. Her performance in The Rape of the Female Body nabbed a Ralphus Award for best rape scene. Sadly, she won't be a contender this time (at least, not for this movie). Her brief blow-job scene in this flick is consensual.
Some interrogation follows, featuring three female guerrillas in a women's prison camp. A soldier marches the women to a small, grungy room with a bucket of water in it. The soldier orders the ladies to strip. He tells the women to spread their legs and uses the bucket of water to clean each prisoner's private area with his hands. He also splashes cold water on each of them.
In an interrogation room, the three women — Rina Uchimura, Rina Ito and Sumire Kishima (pictured below, in that order) — are now wearing prisoners' smocks. The women are threatened and taunted by two military interrogators.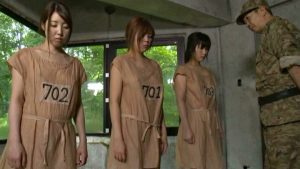 The women's plight worsens. The two horny interrogators get frisky with the ladies, pressing deep kisses on them and copping some feels.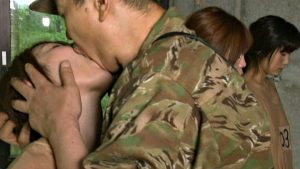 Rape is next on the roster, starting with Sumire (prisoner 703), an innocent-looking cutie with large (enhanced) breasts. One of the interrogators reaches into her smock to fondle her tits and then orders Sumire to sit in a wooden chair. As a soldier tilts the chair back, the interrogator lifts Sumire's smock and proceeds to eat her out.
The muff munching is followed by some of the old in-out. Soldiers hold Sumire's legs apart as she gets nailed by the interrogator, followed by another soldier. Overall, this segment is OK but nothing special.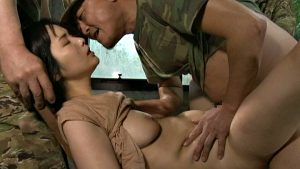 The next scene is much better. Sumire is on her back on a table, with ropes binding her lower legs and wrists to her thighs. Her head is poking through a hole in a canvas partition at the end of the table. A soldier licks Sumire's pussy and then shifts to the other side of the partition, where he forces Sumire to suck his cock.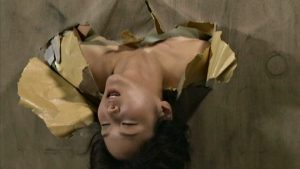 The soldier enters Sumire and gives her a serious pounding. The violation has some intense moments, and young Sumire belts out loud squeals as she is slammed.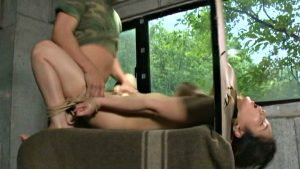 When it's over, a second soldier helps Sumire get cleaned up by dumping a bucket of cold water on her.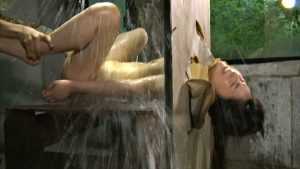 Lovely Rina Uchimura (prisoner 702 in the earlier picture) appears next in the film's most outstanding scene.
Naked Rina is on her back on a wooden bench, with her arms and legs tied to corner posts. One of the interrogators fondles Rina's natural breasts and then goes down on Rina.
The other interrogator shows up and forces Rina to blow him while the first guy continues the clam dive. Squirming Rina's whimpers and grunts really sell the opening part of the scene.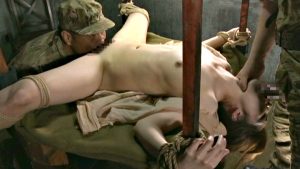 The interrogator who was licking Rina drops his drawers and proceeds to fuck her. Rattling Rina moans and groans as the villain jackhammers her.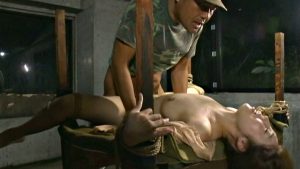 The interrogator finishes up by bursting inside Rina. After the villain withdraws, Rina is left quivering.
The second interrogator decides to make his move. He forces Rina to suck him and then he bones her. Similar to the first guy, this interrogator gives Rina a good slamming, to the point that Rina has a shuddering orgasm.
The rapist keeps going. He grabs beautiful Rina's head and orders her to French kiss him. The interrogator resumes humping Rina as the frenching continues.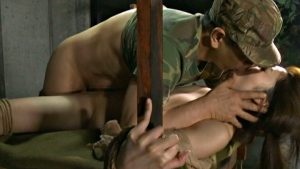 Rina squeals as the interrogator bangs away. At one point, the first guy returns to slobber kisses on Rina while the current rapist licks Rina's kitty. The penetration resumes and the violator and Rina both hit a volcanic climax. Rina remains a trembling mess as the villains plant some final kisses on her.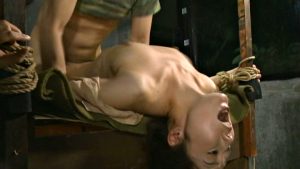 Rina Ito, a woman with large breasts who is cute in a girl-next-door way (prisoner 701 in the earlier picture), finally gets her turn. To avoid any confusion with the previous Rina, we'll refer to Ms. Ito as Rina 701.
After some verbal intimidation, two soldiers take turns poking Rina 701 in a chair and on a desk. Rina 701 does some nice acting but this scenario would have been more effective if she had been restrained. When the banging ends, the two guys force deep kisses on Rina, who is seated in the chair.
The final segment is about two of the prisoners being injected with "Breagra," an aphrodisiac that turns each victim into a glassy-eyed nympho.
Up first is Rina Ito (Rina 701). After the drug is injected into her arm, panting Rina removes her smock and hops onto a table. The dazed cutie lets one soldier tap her while she's lying on her back and allows a second soldier to sample her while she is on her stomach.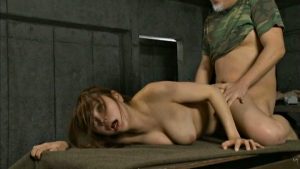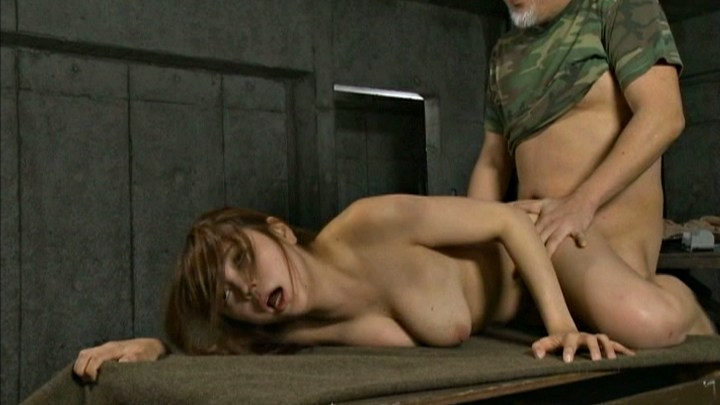 Sumire is also forced to try the prison camp version of the Funky Cold Medina. Once drugged, Sumire removes her smock and lets two guys exploit her on a table. Unfortunately, these final love-drug scenes are forgettable.
My grade: A-
This is an uneven film, mixing top-notch moments with stretches that are rather dull. Fortunately, the parts that do hit the mark are terrific. There's some tremendous acting by attractive stars and the production values are excellent. Despite its flaws, Bodies Raped in Confinement is definitely a winner.
My Grade: A-
Format: AVi / Size: 985 MB / Duration: 01:42:48 / Resolution: 720×406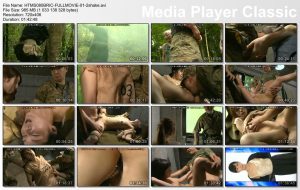 DOWNLOAD FILE – HTMS080BRIC-FULLMOVIE-01-2shake.rar